TACOMA & SEATTLE ENGAGEMENT PORTRAITS
by the award-winning wedding photographers of Wallflower Photography
Wallflower Photography is a wedding photography studio, and that's virtually all that we do. That specialization has helped Wallflower Photography become the top-ranked wedding studio in the Seattle/Tacoma region by multiple professional organizations.
The partial exception to our wedding specialty is engagement portraiture — or, more accurately, our casual couples portraiture, since we occasionally photograph couples who aren't engaged, who are celebrating milestone anniversaries, and who are about to be apart for a long period (as with deployments from nearby Joint Base Lewis McChord).
Most frequently, though, it's our wedding clients who want us to shoot their engagement portraits, and about 70% of them book an engagement shoot.
THE BENEFITS TO HAVING AN ENGAGEMENT SESSION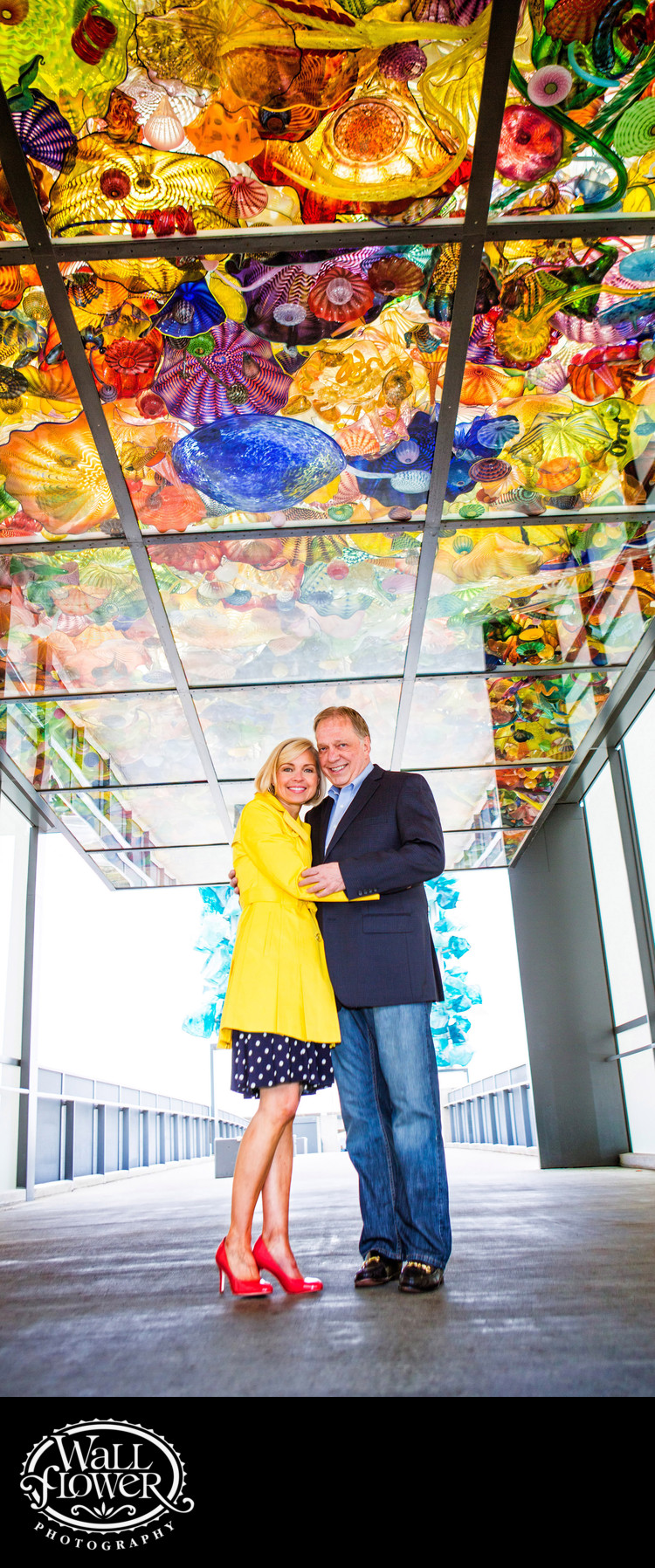 There are two main advantages to booking an engagement shoot with us. The first is obvious: You get a set of terrific portraits that you can put to good use in all sorts of ways. Most of our wedding clients use them in save-the-date cards purchased through the Wallflower Photography storefront on Minted.com. We have terrific wedding guestbooks that have engagement portraits printed on the pages with plenty of white space around them for wedding guests to write in. We have albums and several types of prints in a full range of sizes — we won't bog you down in details here, but trust us, you'll have plenty of options to choose from.
The second advantage is less obvious, but possibly more important: Engagement shoots are an ice-breaker for your wedding day. They are a great way to get a bit more comfortable and confident in front of the camera, and this can really pay off on your wedding day. They also give us a chance to get to know each other better. After all, you might know us less than anyone else at your wedding, yet we'll be working together closely all day long, so building a little rapport ahead of time can help.
OUR ENGAGEMENT PORTRAIT STYLE
Many of the same poses we use with brides and grooms on their wedding days also work great for engagement portrait sessions, and become good practice for you as well. We capture a terrific variety of portraits during a typical 2-hour shoot, mixing up poses, expressions, moods, and settings. We want to give you lots of options to choose from — and what you choose is informative to us.
Many of our engagement portraits have a candid feel, and often really are semi-candid, as natural evolutions or spontaneous reactions within a pose framework that we established. You'll be making eye contact with the lens in some photos, but people who are uncomfortable being photographed tend to love the candid-feeling images more.
Ultimately, we work hard to help you loosen up and be comfortable with one another. We take a lot of photos, knowing that we're going to cut any of them that we feel you won't like — we want you to love them all, of course. But if any losers slipped past us, we can easily bury them forever for you. Knowing this, you can feel free to experiment and go for a pose a bit outside your comfort zone without fear of others seeing anything you don't want to show them. So laugh, play, be serious, silly, romantic, sexy. Have fun!
PREPARING FOR YOUR ENGAGEMENT SHOOT
We want to photograph your engagement portraits at the dressiest level that you feel comfortable with. For many casual Northwest couples, that might just be a stylish button-up shirt and new jeans for both him and her. For other couples, it's a cocktail dress or sundress for her and a sports coat or suit jacket and pants for him. Ultimately, it's up to you, and we just hope for the photos to look like yourselves at your best, not like someone else entirely! Some specific advice: Think stylish — a night on the town, not a day at the office.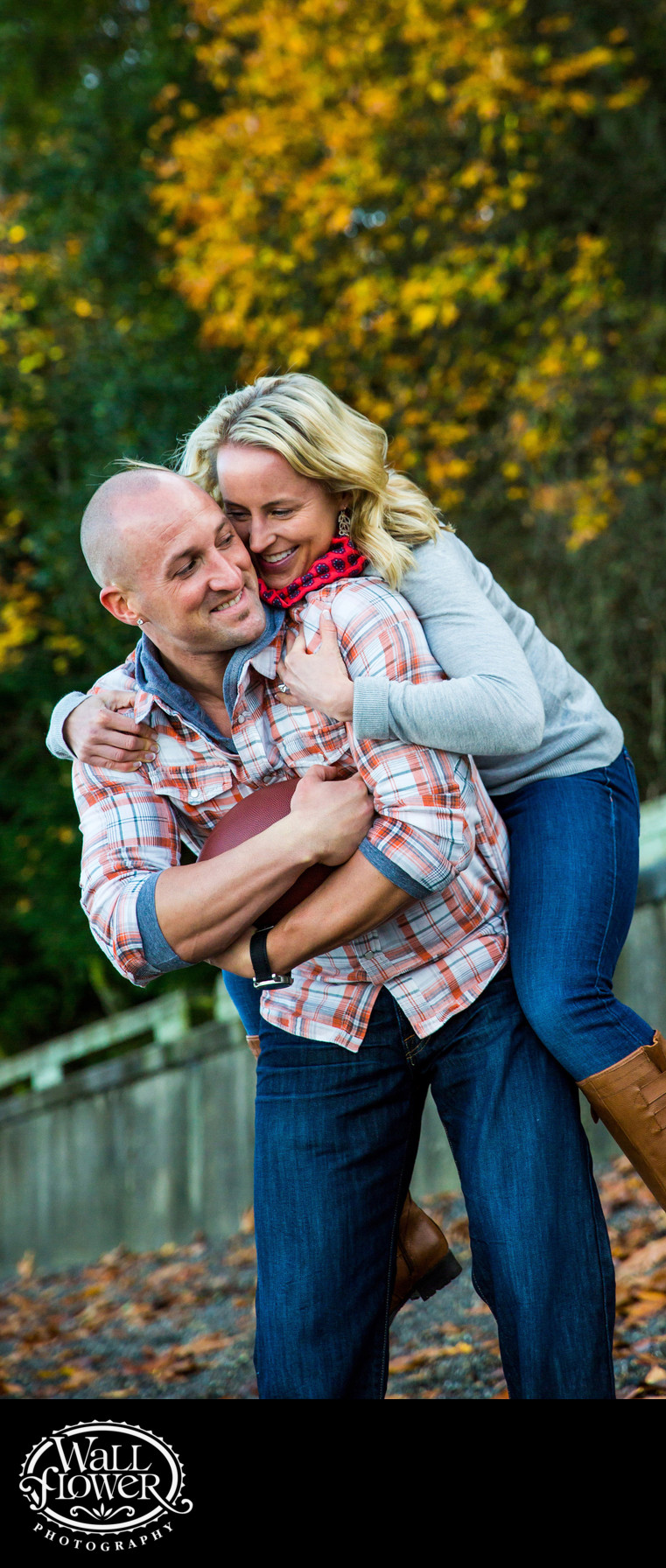 Avoid white, beige, pale colors, super-vibrant colors, patterns, words and other distracting elements. Mid-tone solid colors photograph best.
Don't dress alike, but do coordinate and not clash. One good approach is to match pant types (i.e. jeans with jeans) but not the shirts.
You're welcome to bring more than one outfit. When bathrooms aren't available, you might have to change in the car. The easiest outfit changes involve swapping tops and keeping the same pants.
We will probably walk about a mile during our shoot. Girls might want to bring walking shoes as well as dressier shoes.
A little makeup is your friend. If you want to go minimal, the two best uses of makeup are to cut down on shine and to help separate your lip color from your skin color.
Leave as much in your car as you can: wallets, phones, purses, coats, etc.
You're welcome to bring your dog to be included in some photos (and left in the car for others). You're also welcome to bring props, although most couples don't.
OUR FAVORITE ENGAGEMENT PORTRAIT LOCATIONS
We are happy to photograph engagement shoots wherever you want. In Seattle, we've had great shoots at Gas Works Park, Golden Gardens Park, the Olympic Sculpture Park, and Seattle Center around the Experience Music Project (EMP), Space Needle, and Chihuly Garden and Glass. In Tacoma, we love shooting in the Museum District, around the older parts of downtown, along the waterfront, and in the public areas next to Chambers Bay Golf Course. But most of our engagement portrait sessions take place at the second-largest city park in the nation: Point Defiance Park in northwest Tacoma. In a 2-hour Point Defiance engagement shoot, we can visit the duck pond, rose garden, Japanese garden, historic Pagoda and Lodge, Owen Beach, and our favorite patches of mossy native rain forest. It's a tremendous diversity of settings all within the reach of a standard-length session.
Do you have a certain place that's special to you for some reason? Like the place he proposed, or somewhere you visit together often? Maybe that's your best choice for location. We also have extended-length sessions, and even lifestyle sessions, where we photograph you doing your favorite activities. Let's talk!