DIRECTIONS TO WALLFLOWER PHOTOGRAPHY
WE ARE AVAILABLE BY APPOINTMENT ONLY, so please contact us to arrange a time to meet. Drop by unannounced and we'll have to sic our golden retriever on you! (Just kidding, she'll just bark a lot. We do need a heads-up to fit you into our schedule, though.)
Our studio is located at 602 N. L St. in Tacoma's North Slope Historic District. The directions below are our recommended driving route from I-5. Locals will know that we're three blocks in from Frisko Freeze. Our historic neighborhood has historic streets — look out for potholes!
To get to Wallflower Photography from I-5:
Take Exit 133 (City Center) onto I-705.
Take the Schuster Parkway exit, then the Stadium Way exit.
Turn right on Stadium Way and head up the hill and around the corner.
Continue straight onto Division Ave, then turn right onto N. I St.
Turn left onto N. 8th St. In three blocks, turn left onto N. L St.
Look to the right for the big blue house on the near corner of N. 6th St.
Park on the shoulder, come up the front steps and ring the bell at the front door.
Call us at (253) 274-1222 if you're lost or running more than 10 minutes late. Looking forward to it!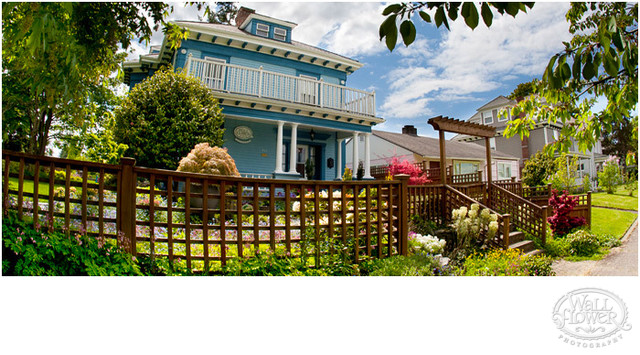 Note: This is what our house looks like, but we have a new fence now!